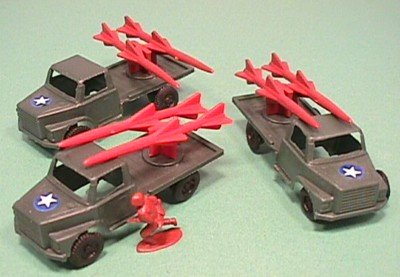 Frequently Asked Questions
Welcome to Our FAQ's
Holiday Buying Tips
Here are a couple of holiday buying tips for Parents and other gift givers. First off a few words about 'scales', in this case, meaning size of the various toy soldier sets. You'll find that most of our toy soldiers will either be in the 1/32nd scale range (being around 2" tall) or the 1/72nd scale (also known as HO scale, being around just under 1" tall). These two scales usually dont work well together, so probably best to stick with one 'scale' when buying, though it's fine to buy in both scales, just avoid, for instance, buying TSSD 1/32nd Scale WWII American GI's to fight against Airfix 1/72nd WWII Germans, the difference in size would not really work. The HO scale vehicles etc are marked in the title and/or description, and these items are in seperate categories too. There is a chart further down the page with a breakdown of scale sizes for you.
The next tip is regarding product packaging. Some of our soldiers sets and other items are sold in the original packaging (whether bagged header card or boxed set). However, we do also buy some items from manufacturers/distributors in 'bulk' and then separate the pieces. These items, including some toy soldiers, vehicles, and accessories, are then bundled together in new ziplock bags for shipping. All our products are 'NEW' direct from the various Manufacturers.
Please feel free to e-mail or call us if you have any questions regarding your order or whether certain items will work well together, besides offering these items for sale, we are also 'toy soldier' collectors/wargamers too and love to talk about this stuff! Enjoy!
Where Do You Get Your Products?
We primiarly get our products from overseas manufacturers. We order from a variety of sources . Sometimes these items are in limited quantity, so purhase them while you can, because once we are 'sold out' its possible we can't get anymore. Almost all of our products are in Brand New condition, never played with and right out of the package. We do purchase collections and vintage toy soldiers, and if an item is previously owned, we will mention condition in the item description. An example might be 'Like New' which means previously owned, but in practically new condition. Please let us know if you have any questions about our products.
What's the Difference Between Hard & Soft Plastic?
Hard plastic is a less flexible plastic, and may break if you try to bend it. Soft plastic is more flexible, and with soldiers, figures can sometimes be 'bent' to slightly change the pose. Most of are items are a softer plastic, with some vehicles in the harder plastic material.
What's the Difference Between Original, Recast, & Copies/Clones Soldiers?
Original toy soldiers are made from the original manufacturer and mold. These are usually vintage soldiers, or newly scultped figures. Recasts are toy soldiers made from the original mold, but the mold has been 're-sold' to a new manufacturer. Recasts usually look indentical to the original figure, though the plastic may be a different color. Copies and Clones are figures that are copied from a original figure. Usually the manufacturer takes a 'original' figure, makes a new mold from that figure, and then makes 'copies' or 'clones' of that figure. These type of figures are usually a bit different in size and quality, depending on the process to make them. Clones make great troops to build up an army! There are also Recast and Copies/Clones vehicles made also.
How Tall is That Toy Soldier?
Toy soldiers are made in many different sizes. Here is an approximate size scale.
2 1/2" = 60mm = 1/29th or 1/30th scale
2 1/4" = 54mm = 1/32nd scale
2" = 51mm = 1 /35th scale
1 3/4" to 1 7/8" = 45mm-48mm= 1/40th scale
1 1/2" to 1 5/8" = 40mm = 1/43rd to 1/48th scale
1" = 25mm = 1/72nd to 1/76nd scale
3/4" = 20mm = 1/87th HO scale

What Do You Mean by Figure Pose Count and Color Variations?
Many times our products are purchased in bulk amounts by the case. Sometimes sets of soldiers are slightly different in relation to the actual quantity of each pose in the set. So for instance, in the product picture you may see 50 soldiers, 10 kneeling with a rifle. If the description says 'figure pose count may vary' then its possible you may get 8 kneeling or maybe 12 kneeling. You will still get 50 soldiers in all poses, just maybe not the actual pose count as pictured. Also, our manufacturers sometimes will use various shades of a color of plastic. So if the description says 'color variations possible' you may be some slight color differences in the figures. They might all be green, but a few may be a bit darker, etc. than the rest of the figures.
How Historcally Accurate is That Soldier?
The majority of our toy soldiers and accessories are originally made for the 'Toy' market so some items may not be historically accurate. Within our descriptions we try to gauge as best as possible, what a item 'looks like' and how it could be used in your battles. We have grouped our products into categories we believe they work best in, but we leave it to your imagination to decide if you want to make that M60 tank into German Panzer!
Shoot, that item I Wanted is Out Of Stock?
No problem! If you are interested in an item that is showing currently out of stock, please drop us an e-mail. We would be glad to try and re-stock for you. Also, if you looking for something in particular and we don't have it listed, e-mail us. We have lots of sources to get new products and we just might be able to find it for you!
What Exactly Is The Plastic Toy Soldier Museum Category?
In this section you can see items that have been out of stock for some time...in some cases an item may no longer be carried by one of our suppliers, or no longer being made. In other cases, such as Airfix, that company is in the process of restarting so as sets become re-released we will restock and move them back into the main sections. With this new section we've been able to 'declutter' the site a bit and you can use this as a reference for your collections. But dont worry, just because an item has been placed in this section doesn't mean we've given up on restocking it! As we find new suppliers we will do our best to restock these pieces!