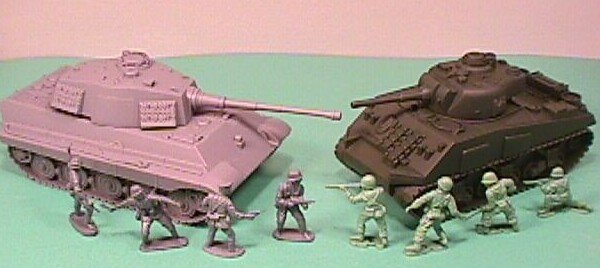 Welcome to Toy Soldiers Depot!





TSD Custom Playsets! With Original Exclusive Artwork Playset Box! Check them out in the TSD Custom Playsets Category!

TSD Custom Playsets
We carry a wide range of plastic toy soldiers, vehicles, and accessories. We cover a wide range of military periods from Ancients, Medieval, Alamo, American Civil War, Wild West, World War II, and 'Modern" Armies. Featuring Companies like Airfix, BMC, CTS, Imex, Italeri,Marx, Revell, Tamiya Model, TSSD, and more! In scales from 1/72nd to 1/32nd. Thanks for stopping by and enjoy your visit.
Toy Soldiers Depot

Featured Items
Please Check Out Our Frequently Asked Questions Page For Holiday Buying Tips!

FAQ Page

Now Offering Brictek Lego Style Building Block Sets!

Now Offering AK Interactive Arcylic Paints And Accessories!

AK Interactive Acrylic Paints
Now offering Vallejo Acrylic Paints For Figures And Models!

Vallejo Acrylic Paints
Now Offering The Complete Line Of Hat Industries Figure Sets!

Hat Industries Figures
Now Offering The Complete Line Of Red Box 1/72nd Figure Sets!

Red Box Figures
Offering The Complete Line Of Orion 1/72nd Figures Sets!

Orion Figures
Now

Now Offering The Complete Line Of Mars 1/72nd Scale Figure Sets!

Mars Figures
Now Offering The Complete Line Of Caesar 1/72nd Scale Miniatures!

Caesar Miniatures
Now Offering 28mm Warlords Games Miniatures!

Warlords Games Miniatures
Now Offering Fireforge 28mm Wargaming Miniatures!

Fireforge Miniatures
Now Offering A Wide Selection Of Tamiya 1/35th Scale Military Vehicles & Soldiers Models!
Tamiya Military Models