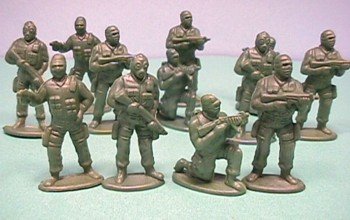 About Toy Soldiers Depot
We carry a wide range of plastic toy soldiers, vehicles, and accessories. Whether you need just platoon of soldiers, or hundreds of reinforcements, or one tank or a entire division, this is the place for you to find it! We cover a wide range of military periods from Medieval, Alamo, American Civil War, Wild West, World War II, and 'Modern" Armies. Featuring Companies like Airfix, BMC, CTS, Imex, Italeri, Revell, TSSD, and More! Now you can pickup exactly what you need to complement your armies and playsets. We carry model scales of 1/32nd to 1/72nd, including military model kits. We are adding new items regularly, so if you dont see something you need, just let us know, we will be happy to find it for you! Keep checking back often, as we are adding new items on a weekly basis, see our 'News" page for regular updates, or sign up for our e-mail newsletter for updates and special offers. We also buy collections of newer and vintage toy soldiers, so if interested just drop us an e-mail with a list of stuff and pricing. If you dont see what you are looking for, let us know! We have alot of sources and can see about doing a 'special order" for you. We can special order practically all the major figure lines including Strelets, A Call To Arms, Accurate, HAT, Mars figures, Miniart, Orion, Italeri, Revell, TSSD, and more! Also can special order all the major military plastic model kit companies! Please review the FAQ link for Holiday shopping tips. Thanks for stopping by and enjoy your visit.
We also offer new and vintage toy soldiers along with other collectibles in our ebay store

Contact Us

Toy Soldiers Depot 11334 Windsor Rd Ijamsville, MD 21754 Phone 240-394-5693


If you have any questions, feel free to contact us by e-mailing info@toysoldiersdepot.com.